Memory is a way of holding on to the things you love, the things you are, the things you never want to lose. Remembering moments becomes entertaining when you imagine the scenario and even more cheerful when you can see the picture of the moment. Wedding is the most beautiful time. Clicking pictures, selfies, dancing, singing are just a part of it but the fun while doing that becomes a memory and never fades.
Pre-Wedding photoshoot is a just a small part of it. Couples choose their favourite location, get all dressed up and book a professional-photographs to capture their beautiful memories, moments and love. A new trend has also emerged in last few years, many people use their pre-wedding shoot photographs in their wedding invitation and even on the wedding location displayed on big hoardings or televisions. No doubt that all these pictures make wedding album vibrant and attractive.
Location of shoot plays a very important role. So, choosing the best location according to the personality and aesthetic of couple is mandatory. Here are some suggestions you can pick for your pre-wedding shoot as the shoot will end but the memories in the heart will live forever.
Taj Mahal, Agra
Taj Mahal was built by Shah Jahan in the memory of his favourite wife. Well! I don't think that you need to choose between which wife is your favourite. But believe me, Taj Mahal is the perfect location for the couples who need the combination of a river and a beautiful royal world-famous museum in the background.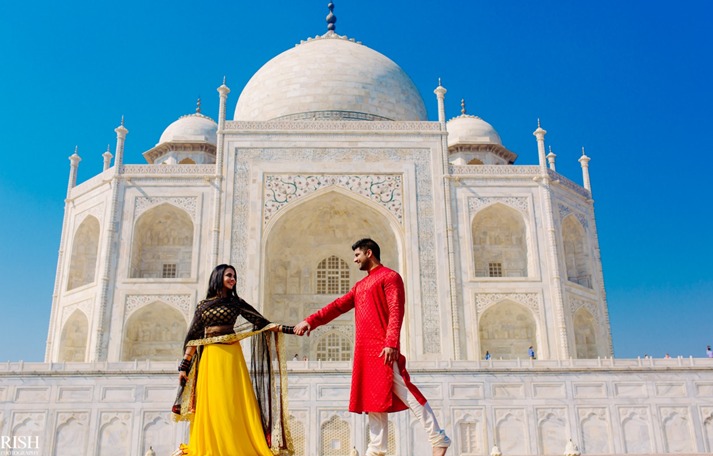 The white marble of the Taj Mahal enhances the beauty of the frame and escalates the emotion of love. Also, the lush green gardens around Taj Mahal are a perfect location to spend the rest day with the love of your life.
Panna Meena Ka Kund, Jaipur
Nothing looks much better than colourful background of young couples, this location is in trend for young lovers who love to experiment with colours and have a colourful nature. This place is located in the beautiful city of Jaipur. Panna Meena ka kund is a square shaped stepwell with stairs on all side. Choosing perfect outfit for this location is no such a big deal because the charm this place give is just divine and the way the rays of sun fall here is just mystical.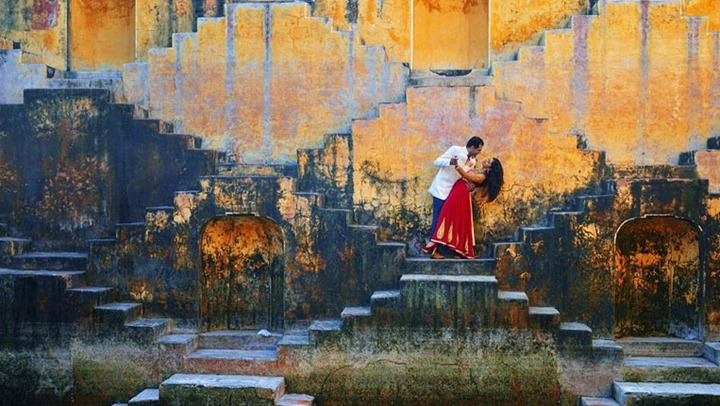 Rishikesh, Uttrakhand
The holy place of Rishikesh is full of magic, love and devotion. The air we breathe in Rishikesh is full of love. Laxman Jhulla and Ram Jhulla are the main attractions of the yoga city. Couples who are always motivated to workout together can choose Rishikesh for their pre-wed shoot. Beatles ashram, ganga river and many other locations are a plus point to the former one's. The nature there is magical and pure. The Location with mountains far away, with river on the sides and air touching the souls is purely romantic and charming.
Humayun's Tomb, Delhi
This beautiful tomb is Delhi is famous for its unique architecture. It was built in ancient India but who knew that it will become one of the most preferred location in India for pre-wedding shoots. The tomb is surrounded by coolest green gardens. This location is perfect for couples who live in or near Delhi. Choosing the day with good weather can add a new dimension to your shoot. If you can a vintage and royal background you can give this location a go.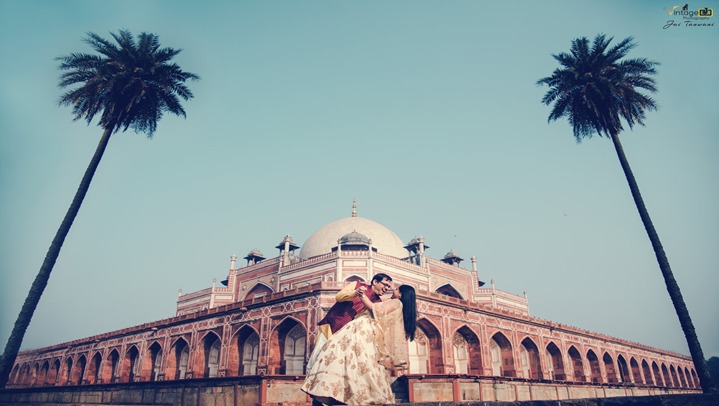 Visakhapatnam, Andhra Pradesh
Beach locations are one the more preferred locations for pre-wedding photoshoots. Vishakhapatnam's beaches are beautiful, pleasing and calming. The couples who love water and sand, and wants to enjoy sunrise and sunset on the beach with their love can surely choose this location.
French Colony, Pondicherry
French Colony in Pondicherry is the example of French architecture in India. Couples who want to plan their pre-wed shoot in Abroad and can't go because of something can surely pour this tea in their cup. Perfect vintage background with lovely colours and positive vibes.
[dfd_spacer screen_wide_resolution="1280″ screen_wide_spacer_size="170″ screen_normal_resolution="1024″ screen_tablet_resolution="800″ screen_mobile_resolution="480″ screen_normal_spacer_size="60″ screen_tablet_spacer_size="60″ screen_mobile_spacer_size="50″]

Join our confidential VIP matrimonial network of the most successful, educated,
and attractive professional Bachelors who are looking for match. Connecting people across the world.
– because that ideal person may not be living in your city.
You can see our working are by our social media presence.
[dfd_social_accounts soc_icons_hover="12″ team_member_fb="url:https%3A%2F%2Ffacebook.com%2Fvipmatrimonials|title:Link%20to%20facebook%20account|target:%20_blank|" team_member_flk="url:https%3A%2F%2Fwww.flickr.com%2Fpeople%2F188710986%40N04%2F|title:Link%20to%20Flickr%20Account|target:%20_blank|" team_member_in="url:https%3A%2F%2Fwww.instagram.com%2Fvip_matrimonial_services%2F|title:Link%20to%20Instagram%20Account|target:%20_blank|" team_member_li="url:https%3A%2F%2Fwww.linkedin.com%2Fcompany%2Fvip-matrimony-358%2F|title:link%20to%20LinkedIn%20account|target:%20_blank|" team_member_pt="url:https%3A%2F%2Fpinterest.com%2Fvipmatrimony%2F|title:link%20to%20Official%20Pinterest%20account|target:%20_blank|" team_member_tw="url:https%3A%2F%2Ftwitter.com%2Fvip.matches|||" team_member_wp="url:https%3A%2F%2Fvipmatrimony.wordpress.com%2F|title:link%20to%20WordPress%20website|target:%20_blank|"][dfd_spacer screen_wide_resolution="1280″ screen_wide_spacer_size="170″ screen_normal_resolution="1024″ screen_tablet_resolution="800″ screen_mobile_resolution="480″ screen_normal_spacer_size="60″ screen_tablet_spacer_size="60″ screen_mobile_spacer_size="50″]