5 Trending International Destinations
Destination wedding is becoming everyone preference, with good location, close friends and family and intimacy. After seeing the mind-boggling wedding photographs of insta and Bollywood celebs, uncelebrated people are also thinking to plan their wedding abroad. The exotic, and aesthetic feel is all what we care about now.  Choosing the perfect dream location is mandatory. There are some world-famous locations that can be perfect for any Indian wedding.
1. Thailand
World-famous for its sand, beaches, clear water and exquisite resort, Thailand is the perfect vacay place for Indians. Thailand is one of the most preferred wedding location and has proved to be romantic and delightful. Planning an Indian wedding there has become an easy task over the years. Some of the preferred venues for Indian wedding in Thailand are, The Banyan Tree, Phuket; JW Marriott Resort and Spa, Phuket; Grand Centara Mirage, Pattaya; Holiday In, Bangkok and Sheraton, Pattaya.
2. Italy
Deepveer and Virushka both chose Italy to be their wedding location. This place has amazing food, view and architecture. Venice, Amalfi Coast, Tuscany, Siena and every city in Italy has an amazing experience of its own and a perfect place for that dream wedding.
3. Bali
Bali is one of the most beautiful places to have a dream marriage in. This place is full of stunning resorts, exotic beaches and a vibe that connects Indian culture. This destination is perfect for couples who want a foreign destination wedding with a touch of Indian aesthetic.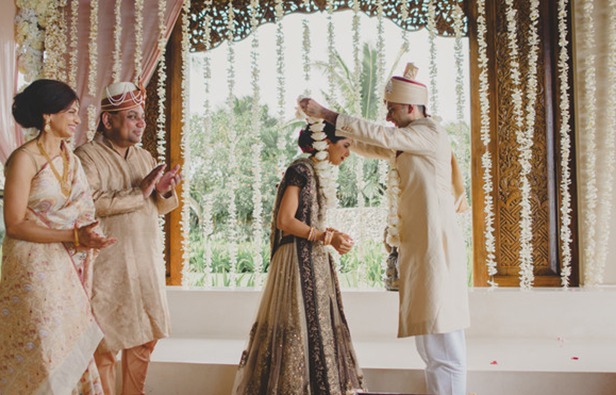 4. Dubai
If you dream to have a foreign luxury wedding, there can be no better place than Dubai. From exotic beaches to dry sand, Dubai has everything arranged for their customers. Its almost a gala affair to get married in Dubai, this place gives you a lot of opinions and themes to choose from.
5. Mauritius
This place is famous among honeymooners, resorts and charming beaches makes this place perfect for any wedding. Mauritius is famous all the world for its sunsets and sunrise and hence becomes the best place to say 'I do'. This place is tourist friendly and visas are easily available.