Make your wedding aisle a thing of beauty with our guide to the best decorations and finishing touches, from rustic chic to sleek and contemporary, for every kind of ceremony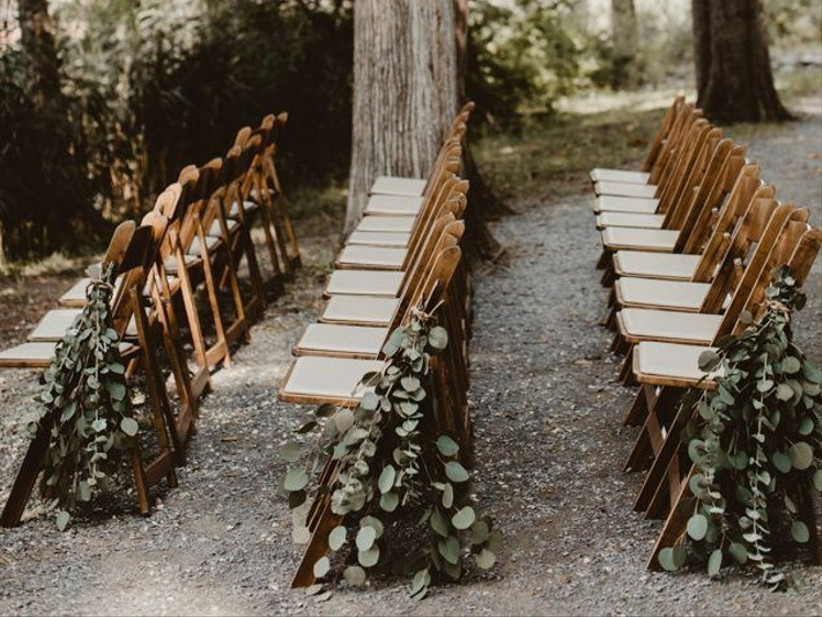 The wedding aisle is at the heart of your day.
It's where you'll walk towards the person you love most in the world; it's where you'll take your first walk together as newlyweds. And yet it's easy to overlook the wedding aisle when it comes to décor. We say, take some time to make this special space as beautiful as it can be.
You don't have to bust the wedding budget to do so – sometimes all you need are a few finishing touches, such as a runner and lanterns. Of course, if you want to go all-out with some amazing flowers, we're totally on board with that, too!
Wherever you're saying 'I do' – church, barn, beach or anywhere else – we've curated the best wedding aisle décor ideas. These beautiful decorations cover every budget and style, and are easy to make your own, so you can take inspiration for your own unique day.
1. Choose Cherry Blossom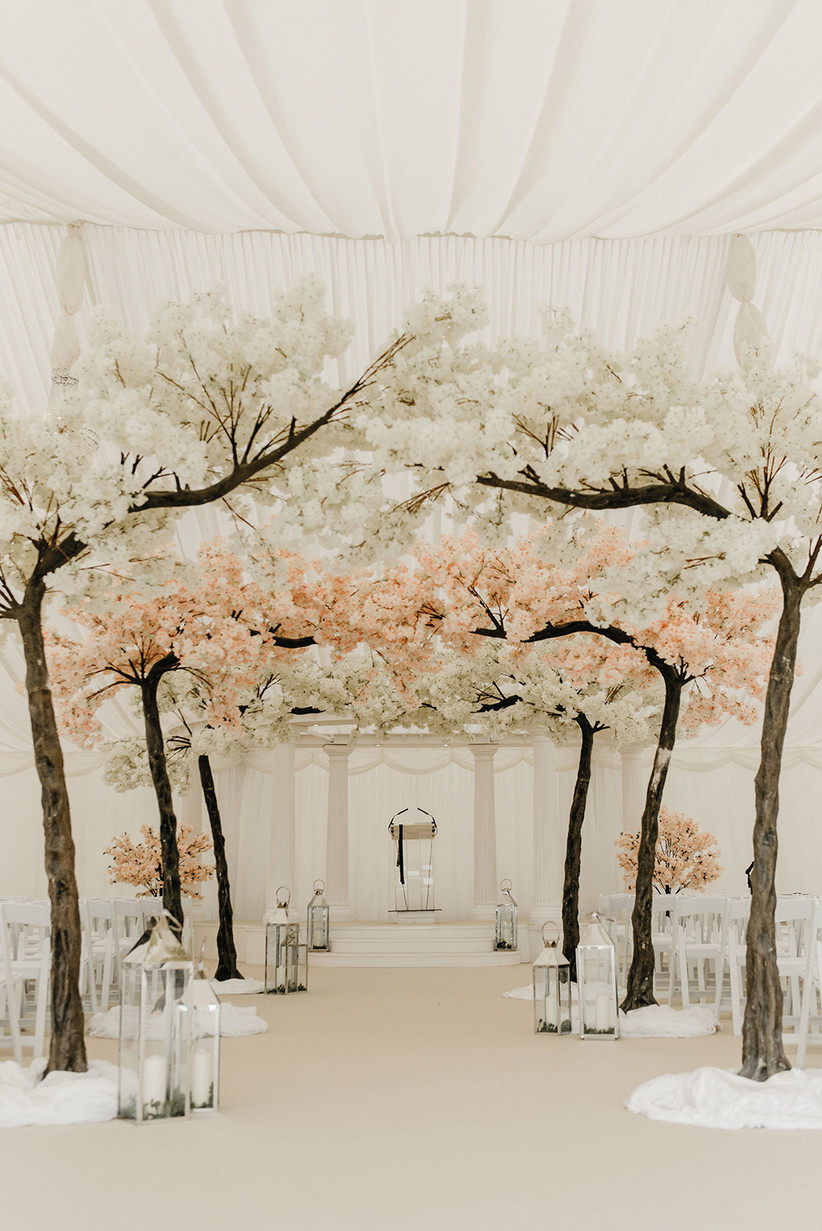 A tree-lined aisle is a wonderful way to bring the outside in. For extra romance, we love flowering cherry blossom trees. If you or any of your guests suffer from hay fever, good quality artificial trees are available to hire.
2. Introduce Pampas Grass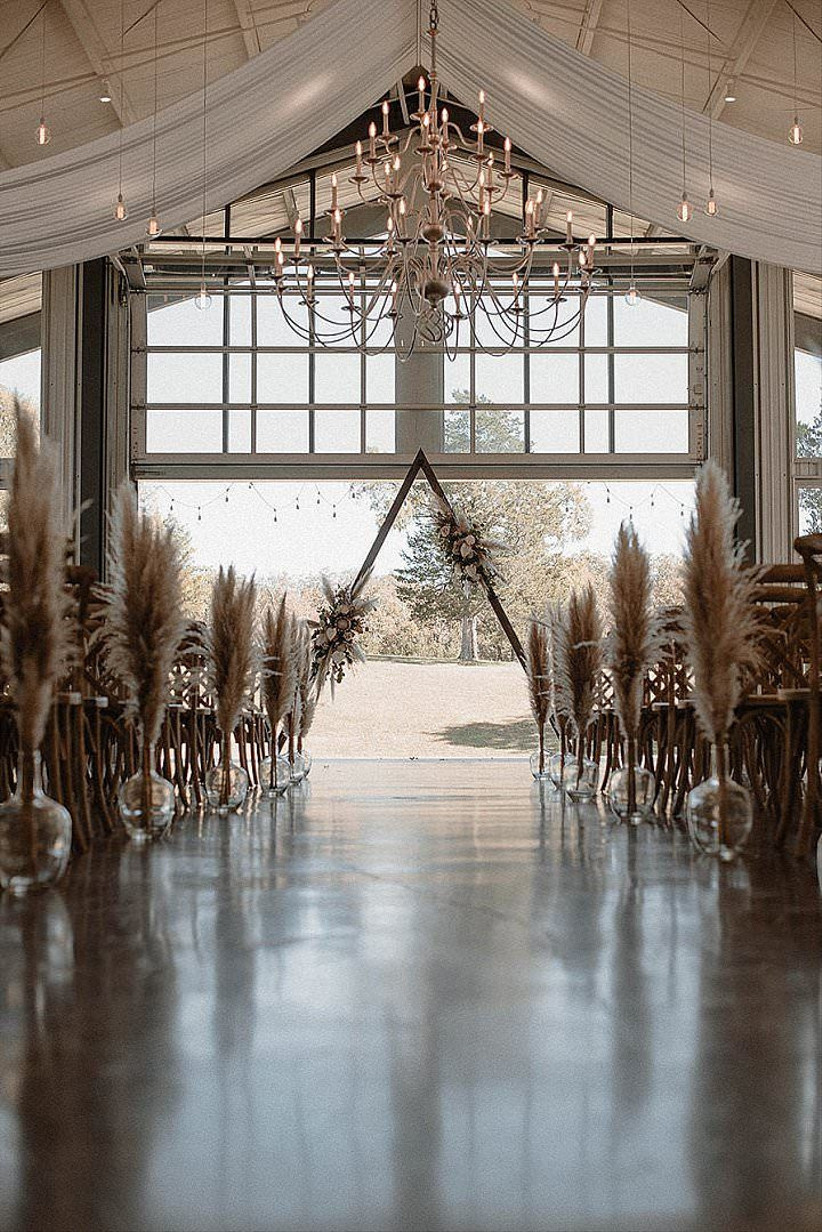 Pampas grass has become one of the hottest décor trends for weddings, so if you want to give your aisle a contemporary feel, this is how you do it.
3. Use Flowers to Line the Aisle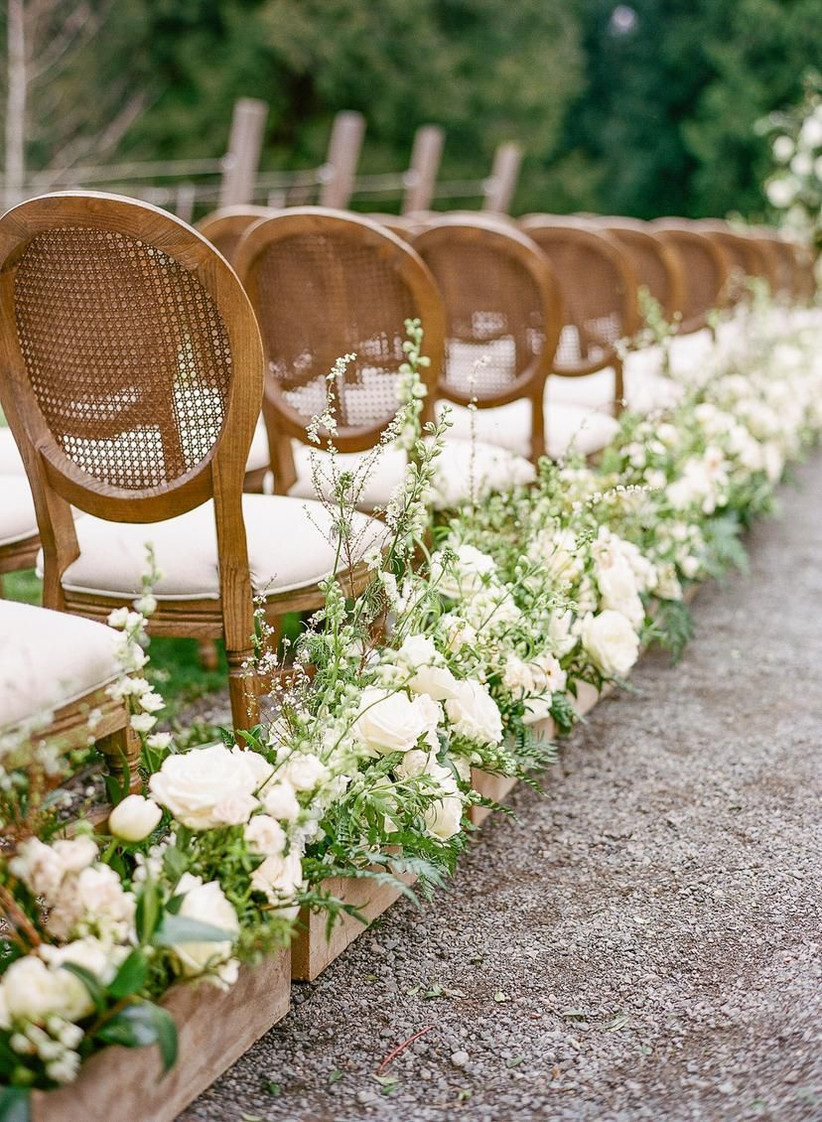 Having flowers all the way along the edges of the aisle is a lovely way to add colour, scent and texture.
4. Use Petals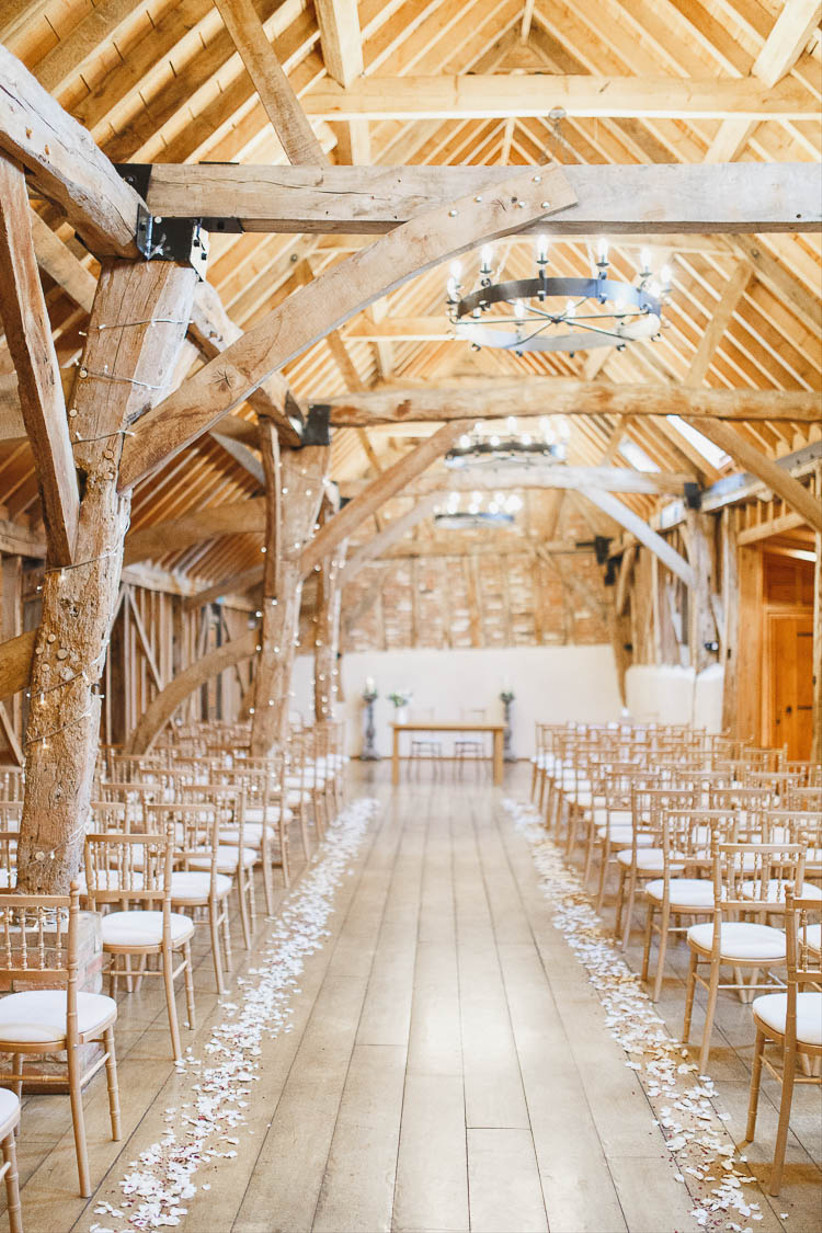 If you'd prefer to keep your wedding aisle simple, a generous scattering of petals is a romantic choice.
READ MORE: 15 of the Best Barn Wedding Venues
5. Pick Your Favourite Quotes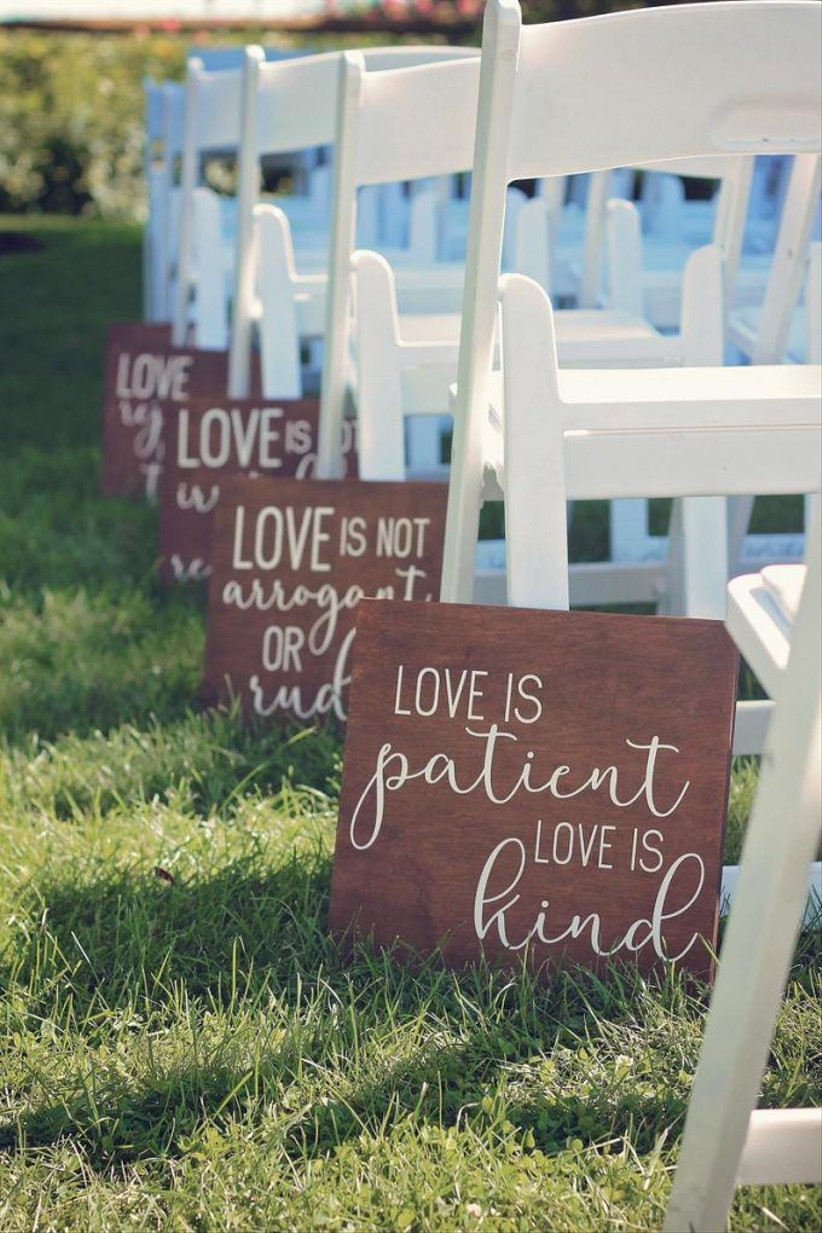 Use wedding signs with your favourite romantic quotes – whether you go sentimental or funny, make sure you keep each one brief, for maximum impact.
6. Drape the Chairs or Pew Ends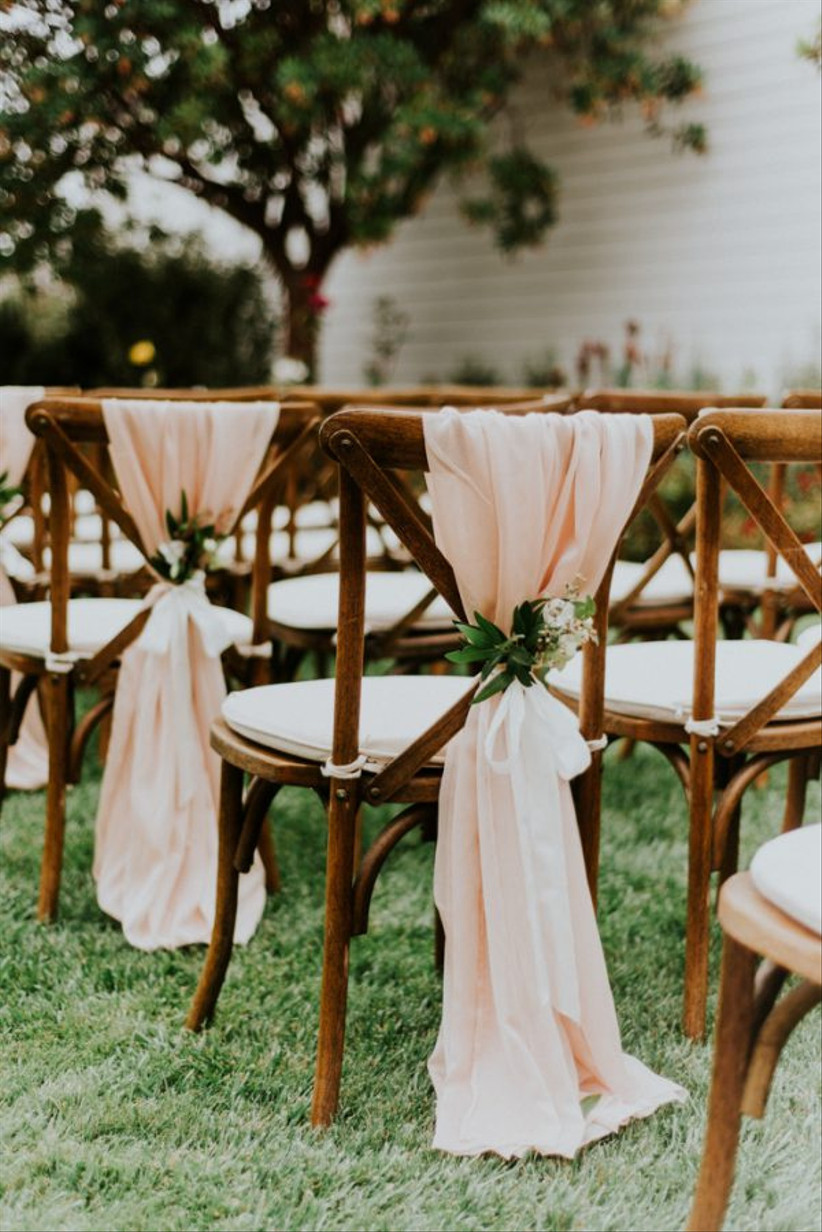 Draped fabric adds a luxe feel without costing the earth.
7. Think Seasonally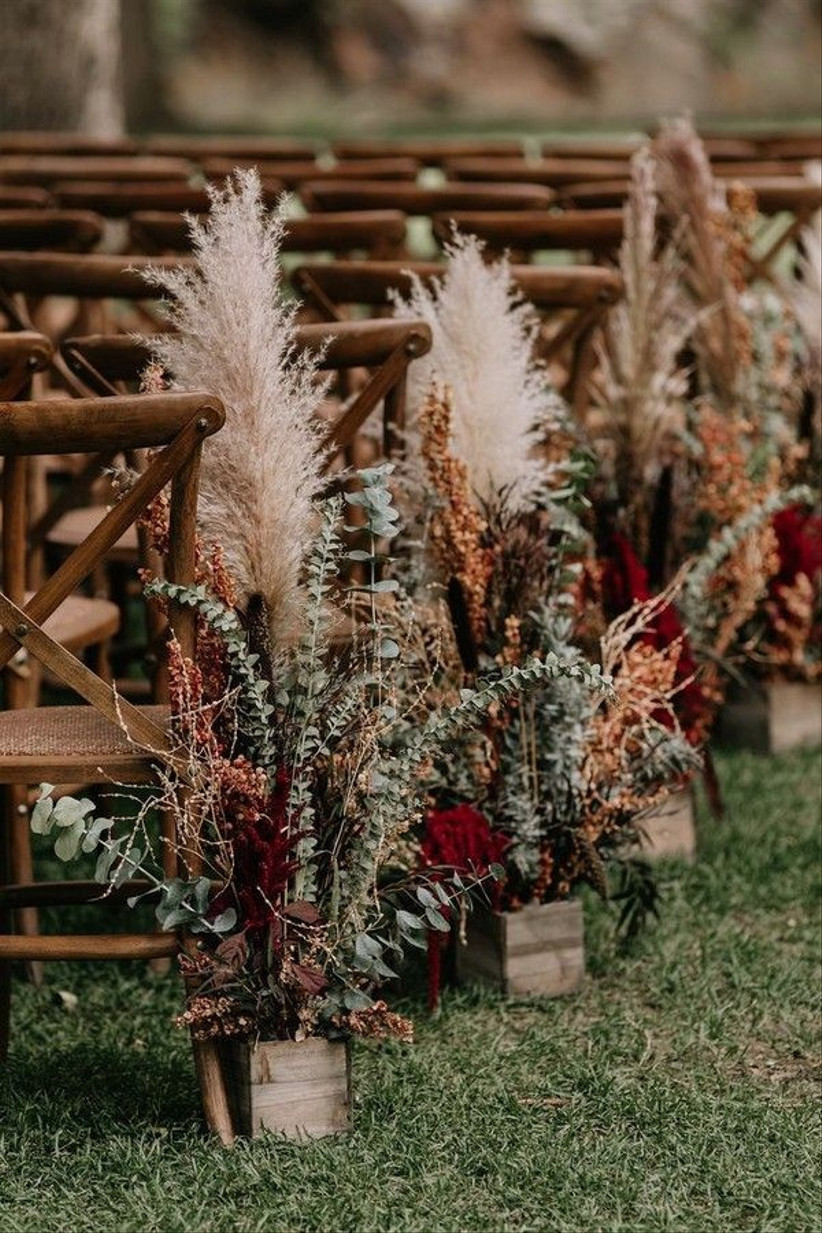 Use a colour palette that speaks to the season – these beautiful boho arrangements immediately say autumn.
8. Bring Florals to the Beach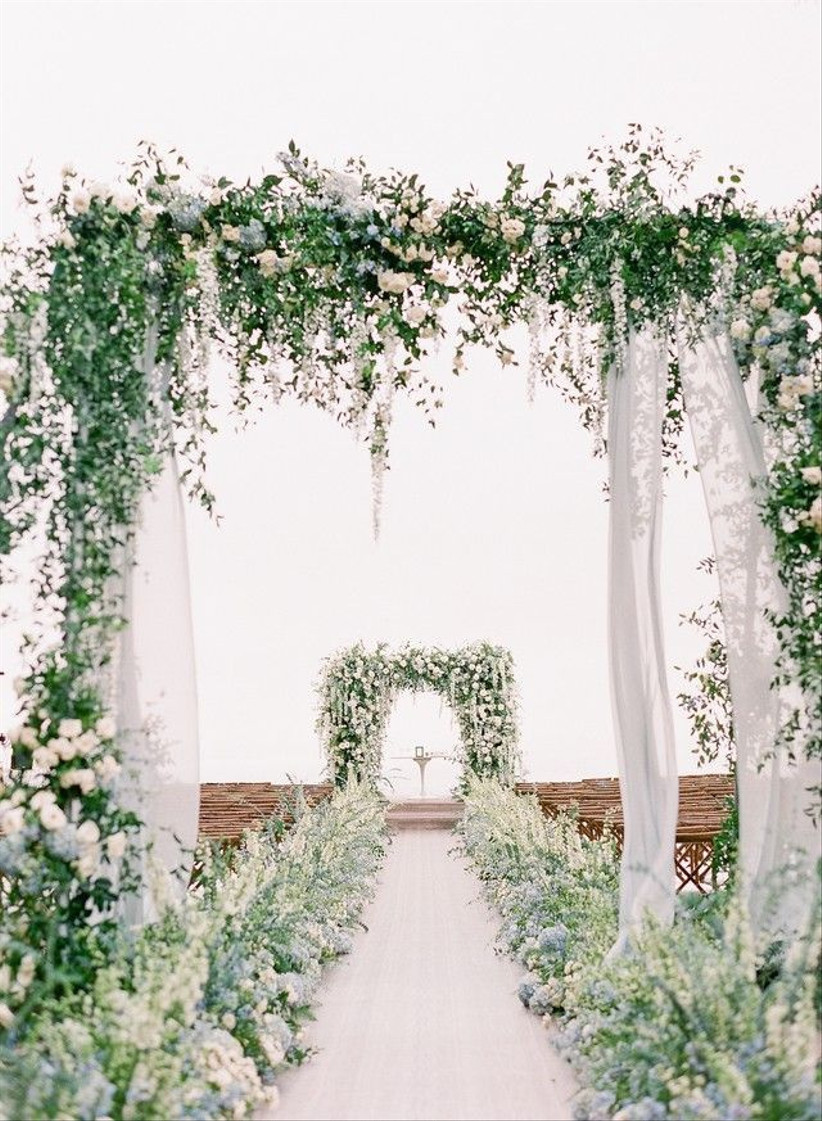 Don't rule out opulent flowers if you're having a beach wedding – as this aisle shows, a generous display can look wonderful against the sand.
9. Green Trees Add Freshness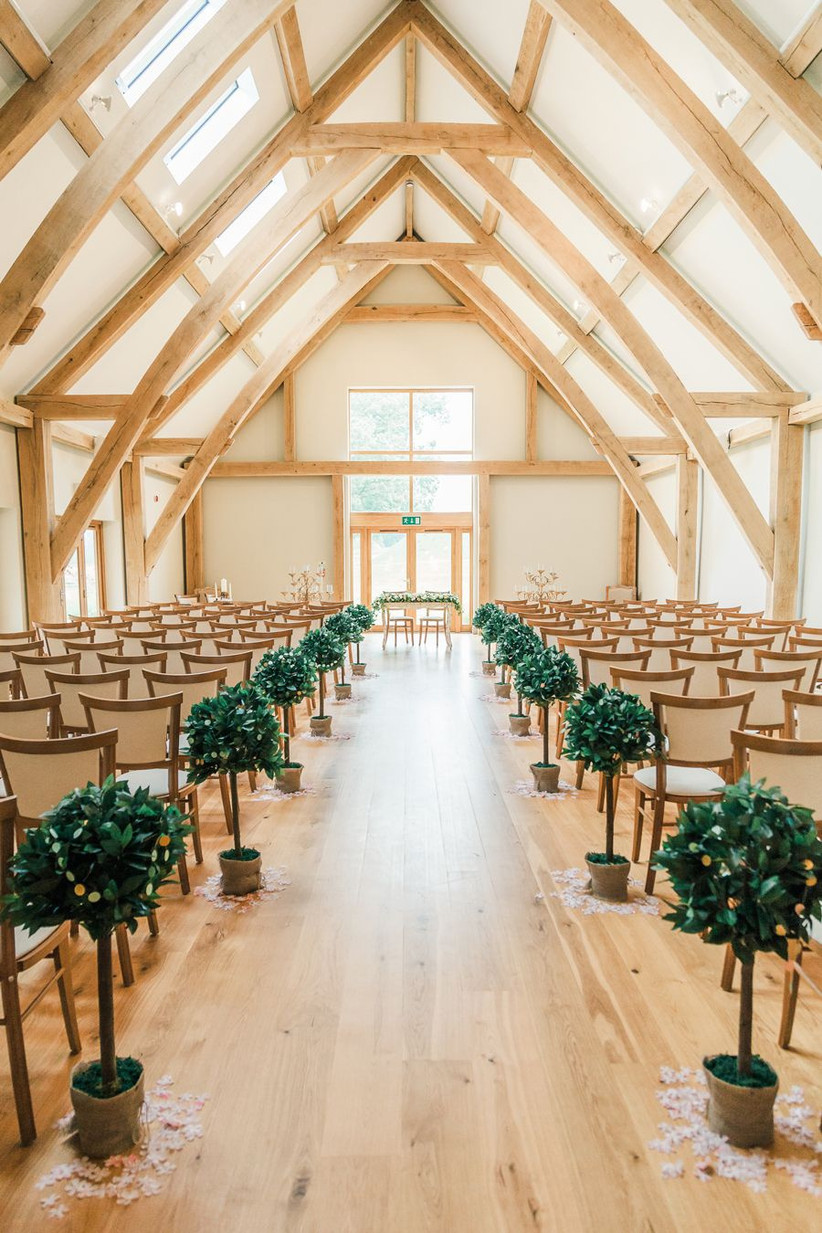 A line of trees on either side of the aisle feels so fresh. Note that they're almost exactly the same height as the chairs, which draws the eye straight to the end of the wedding aisle.
10. Be Generous with Candles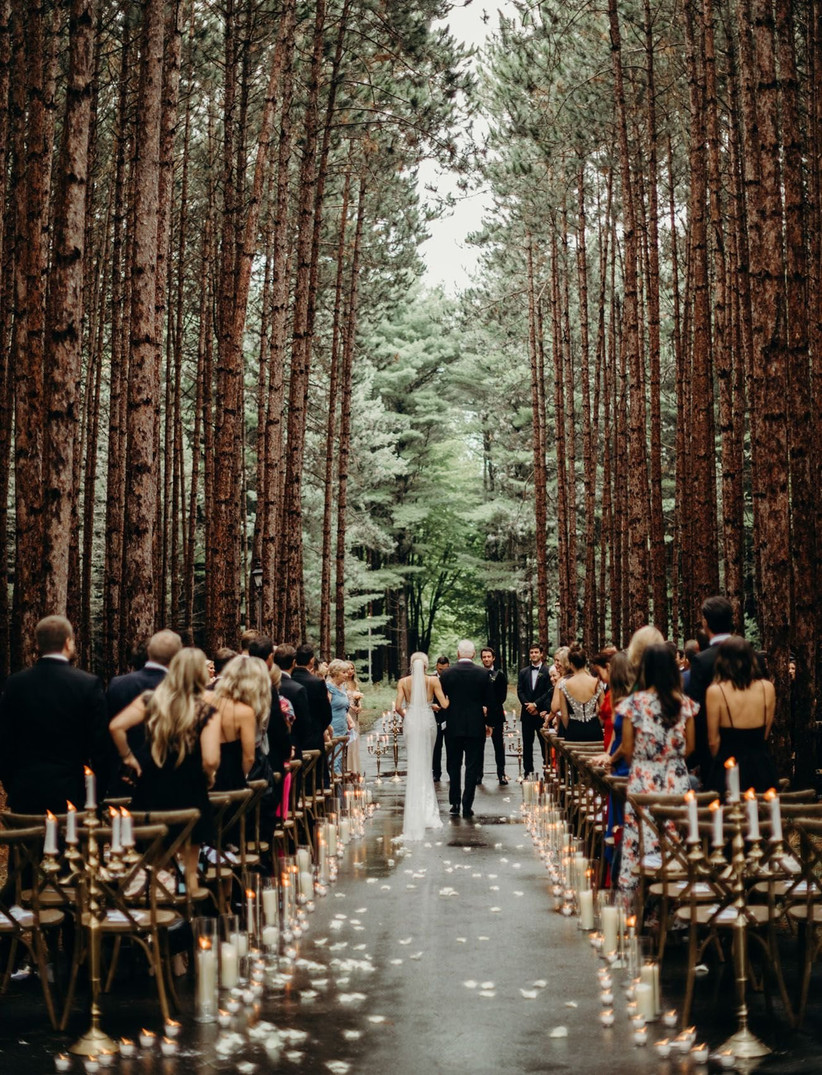 Candlelight is always romantic. The mix of candelabras, tea lights and lanterns that's so effective here can easily be replicated at an indoor wedding, venue allowing.
11. Scale It Back for Impact
Rather than small pew ends on every aisle-side chair, have just a few larger arrangements spaced out – you'd be surprised how much impact that can make.
12. Don't Discount Greenery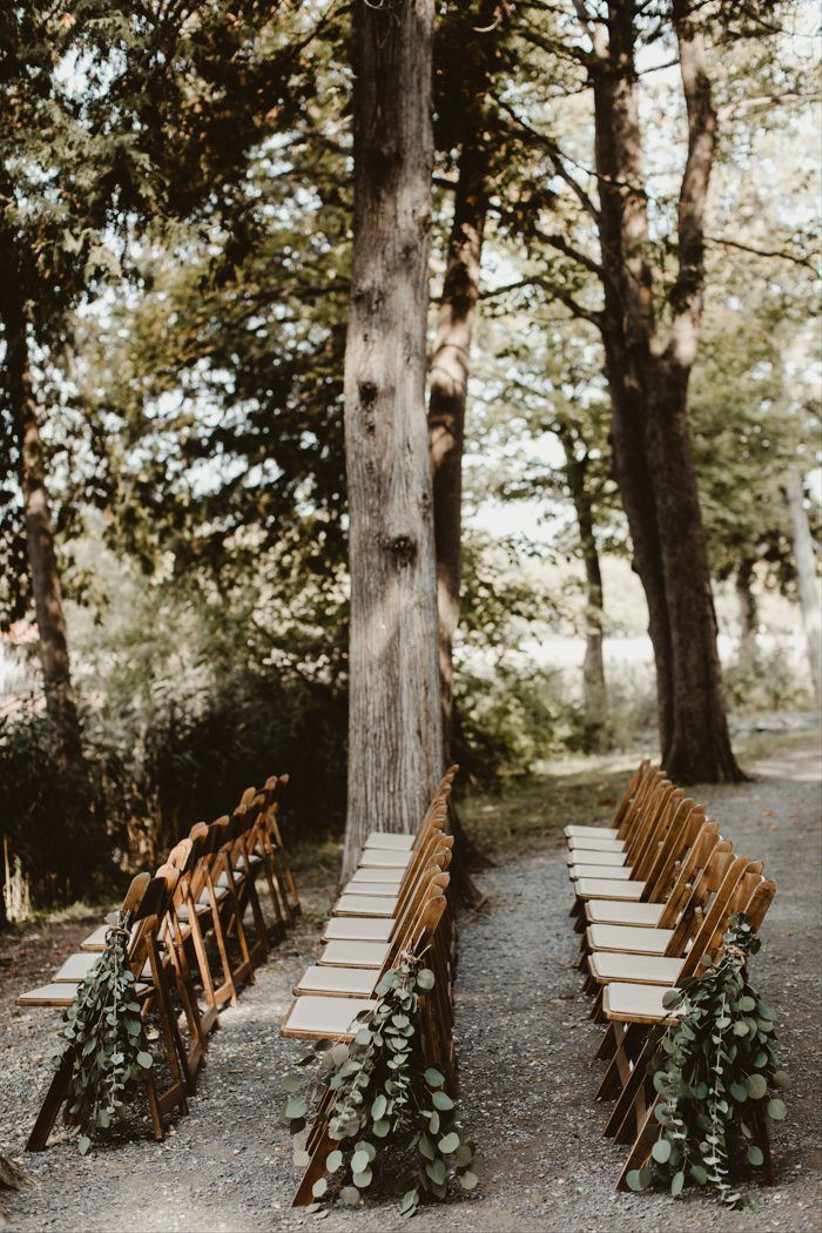 Greenery is considerably less expensive than flowers but makes for fabulous wedding aisle décor, bringing a natural feel.
13. Make an Entrance… Literally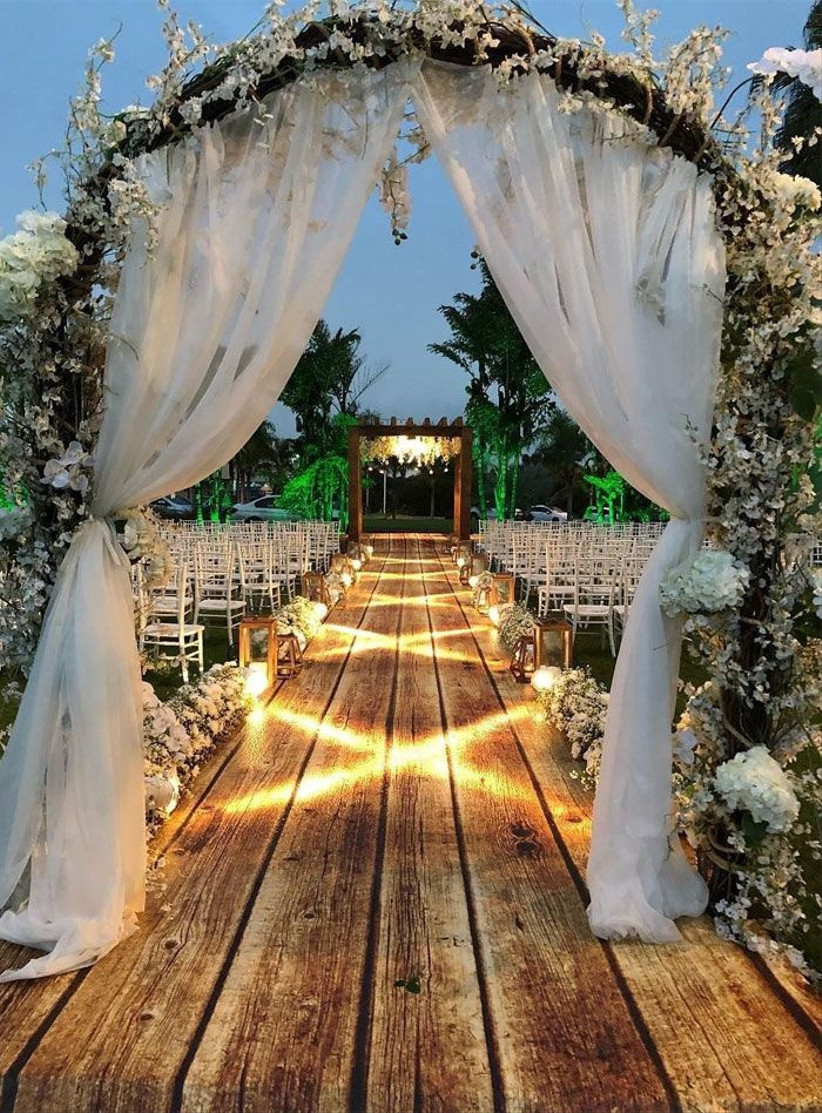 Creating an entrance to the wedding aisle makes your first steps feel even more special.
14. Source Unusual Glassware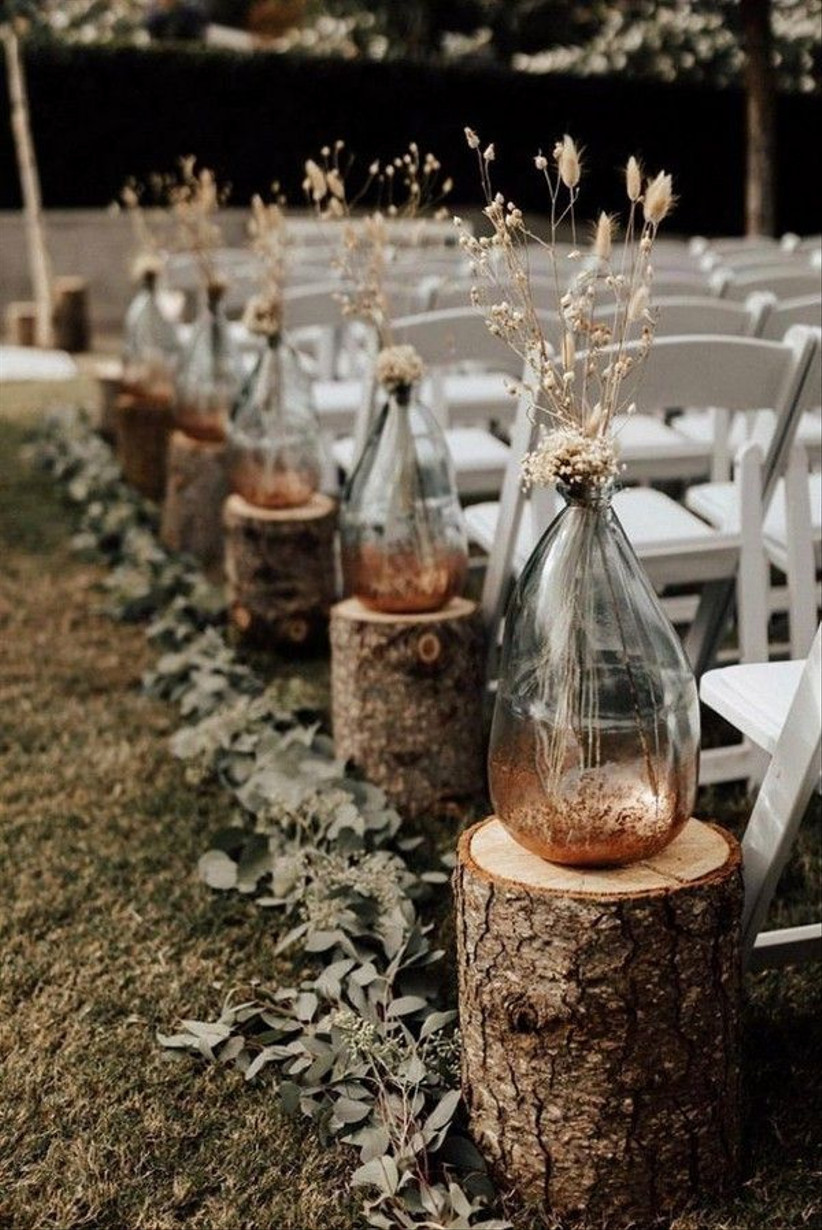 Use uniquely chic vases to display your flowers – as here, you then don't need as many stems per vase to make an impact.
15. Get Creative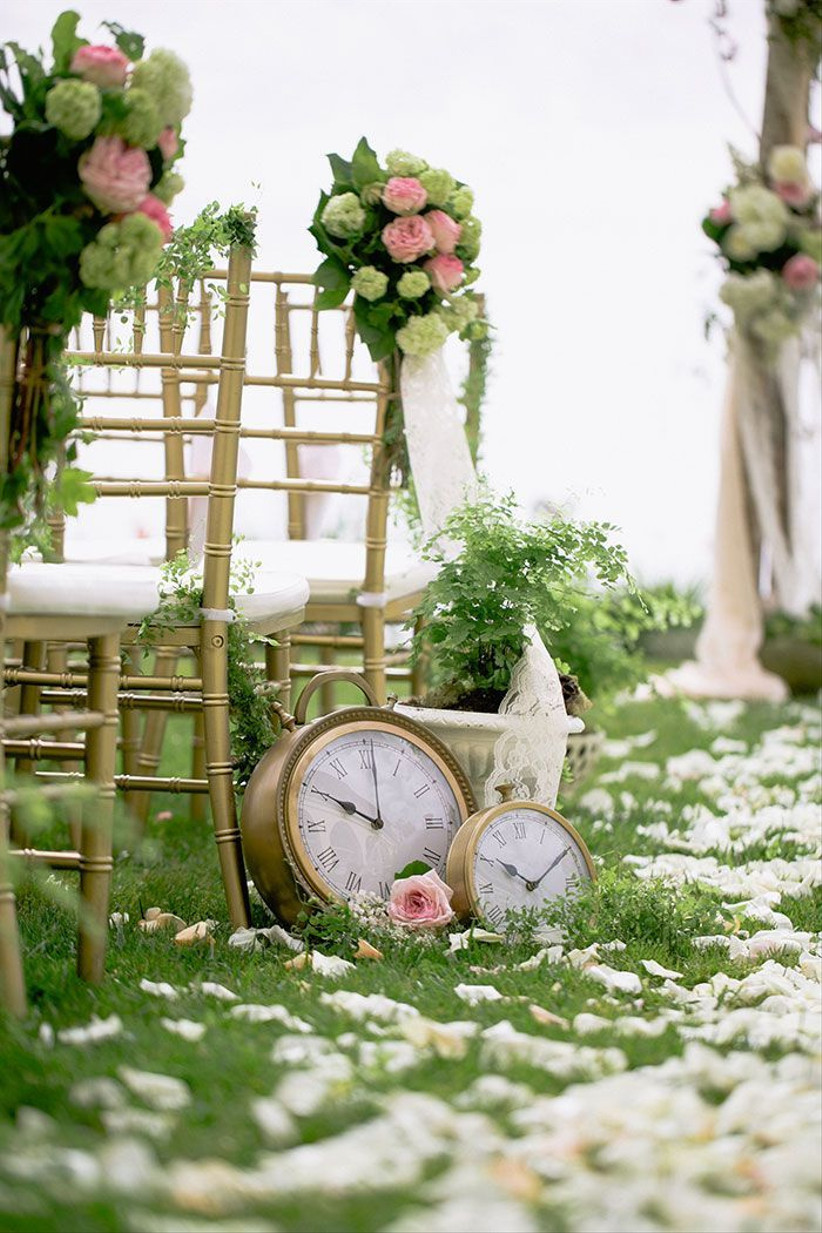 Wedding aisle décor isn't just about the natural world – think about cool props you can buy or hire, to put a unique twist on your look.
16. Look Up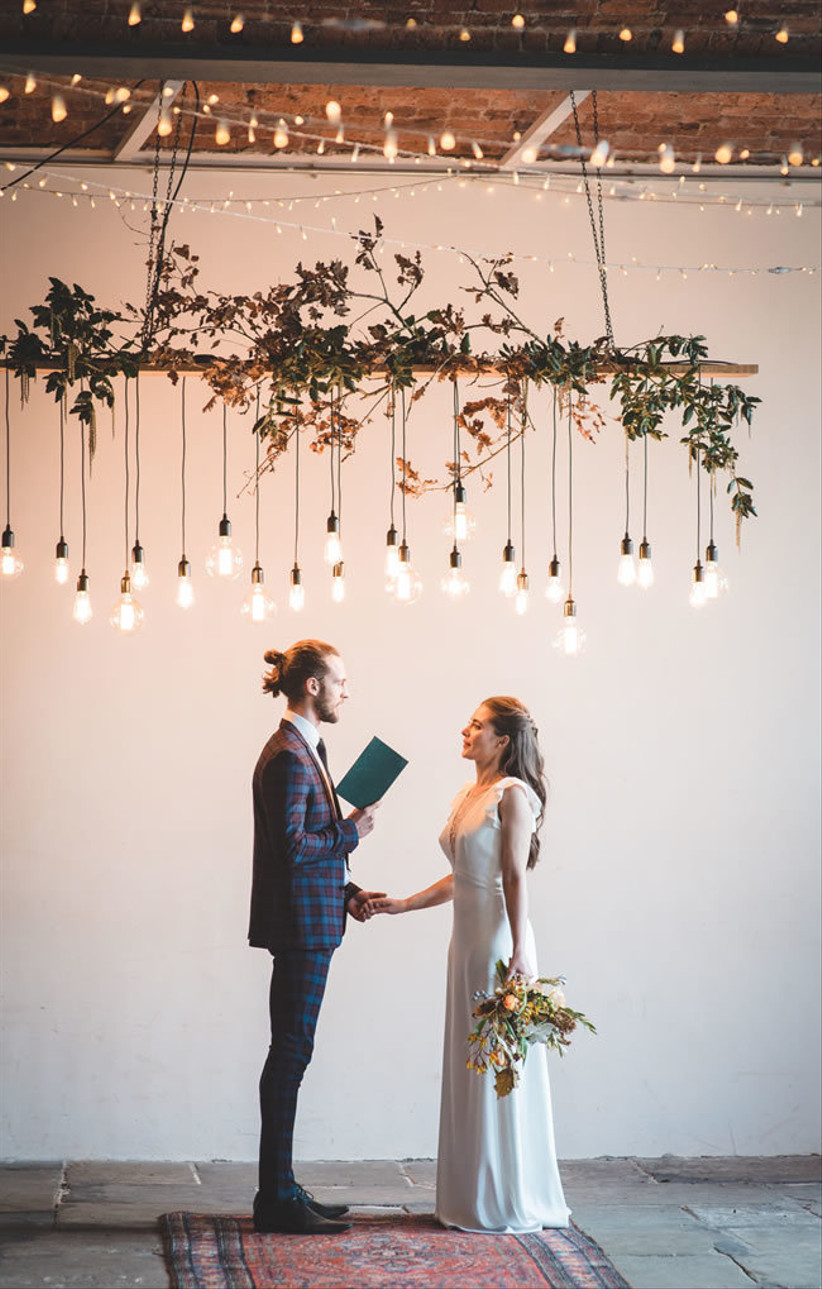 Overhead décor is a great way to bring a wedding aisle to life without obscuring guests' views, like this installation of lights and foliage.
17. Choose a Runner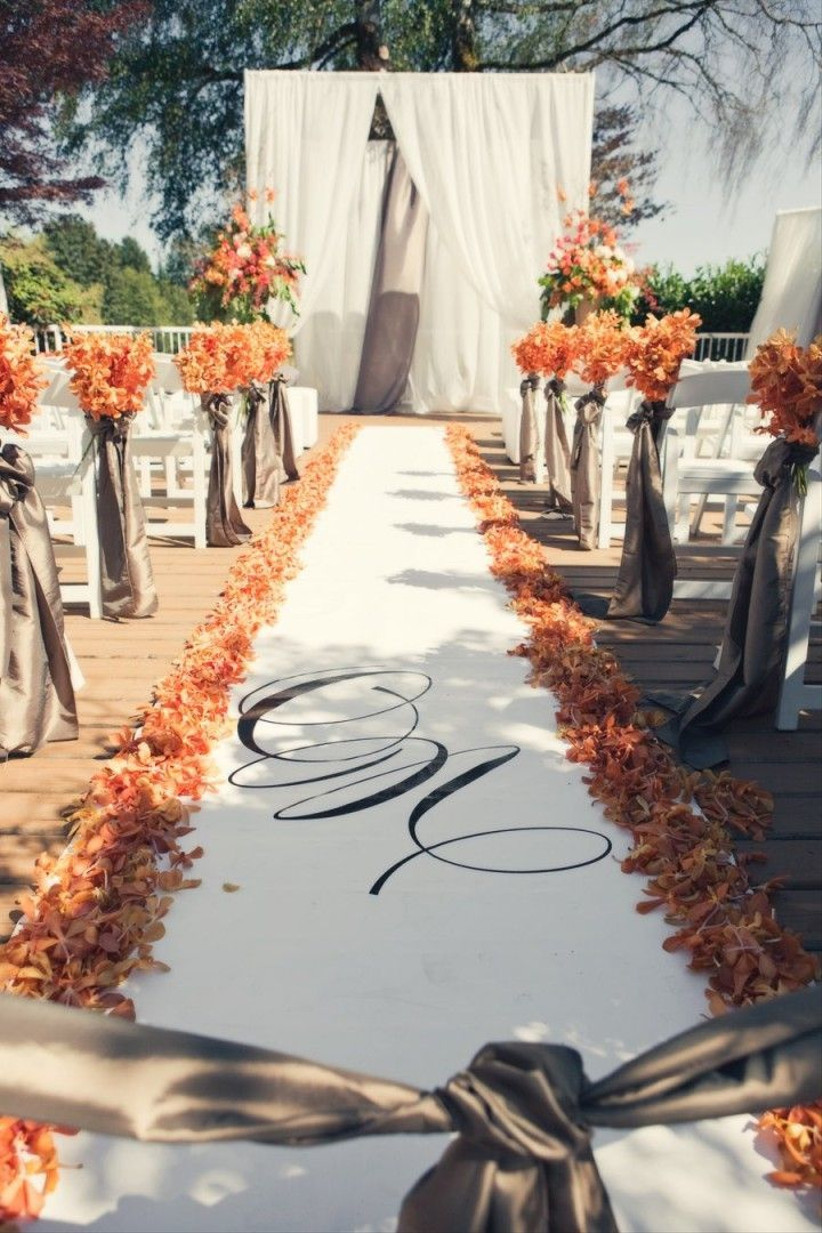 You can get aisle runners customised with your initials, wedding date or monogram, for extra personalisation.
18. Embrace Neutrals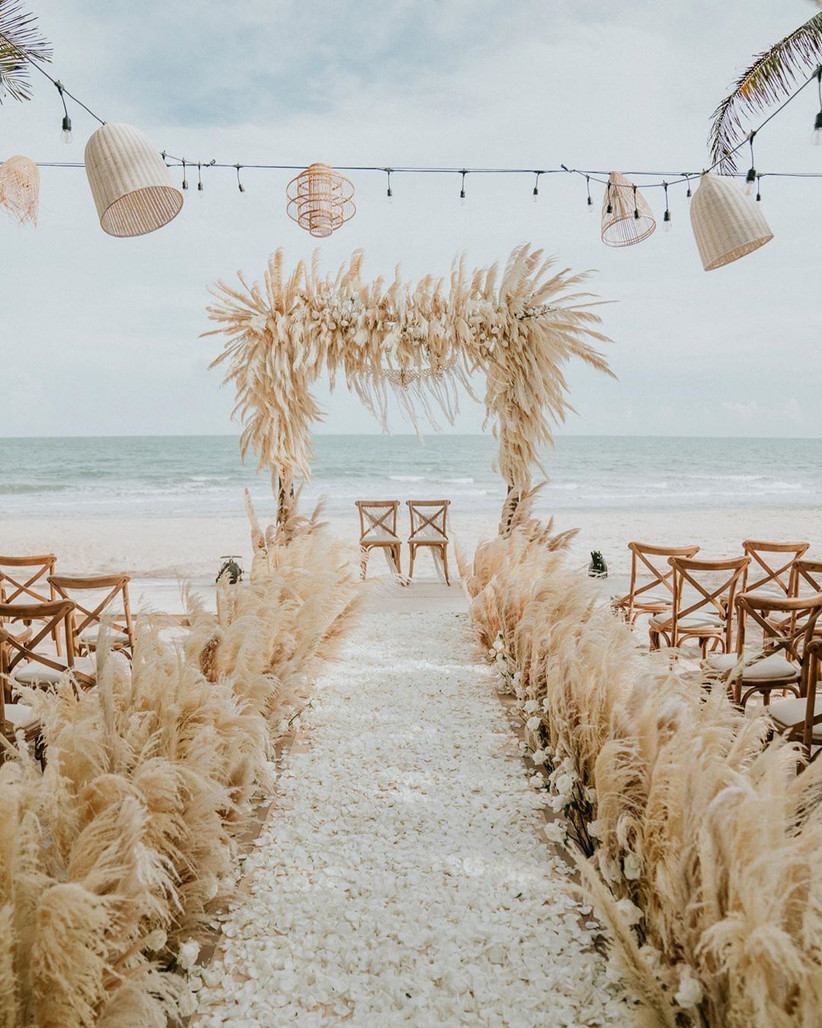 Bright colours and pastels have their place, but we love how dreamily serene this beach wedding set-up feels.
READ MORE: Getting Married Abroad: Everything You Need to Know
19. Go Boho With Rugs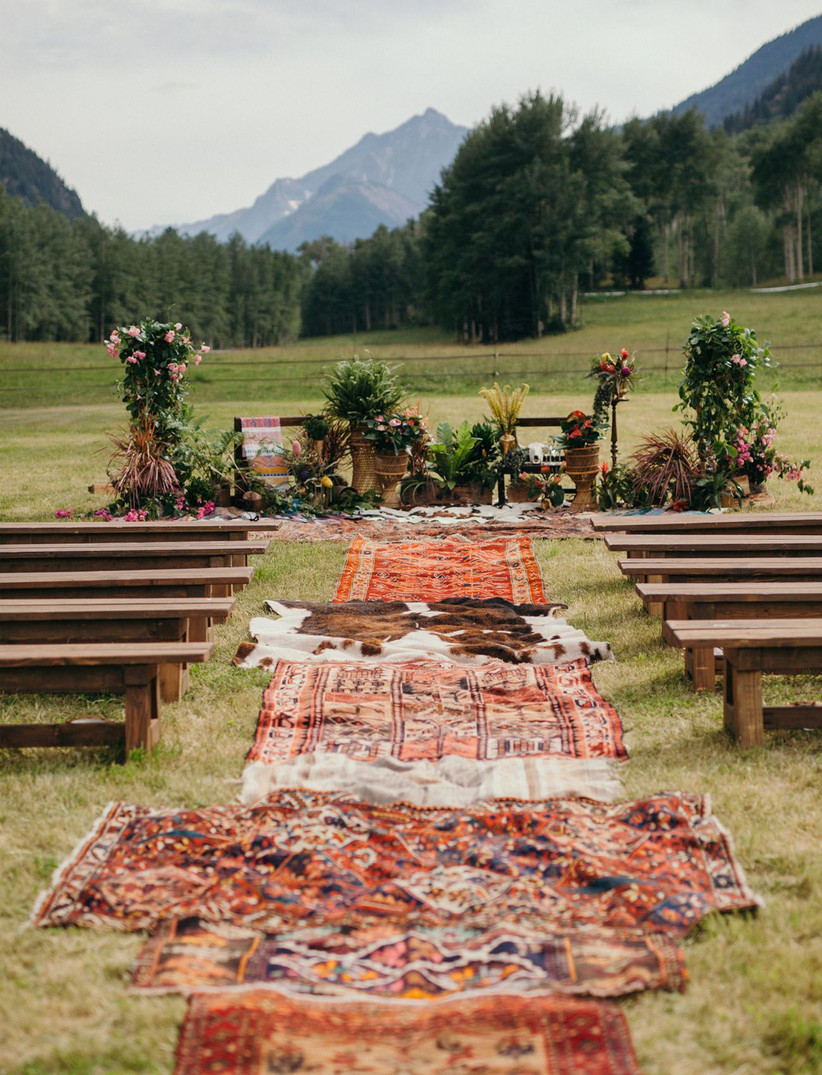 Mismatched patterned rugs create an eclectic, boho feel.
20. Use Mason Jars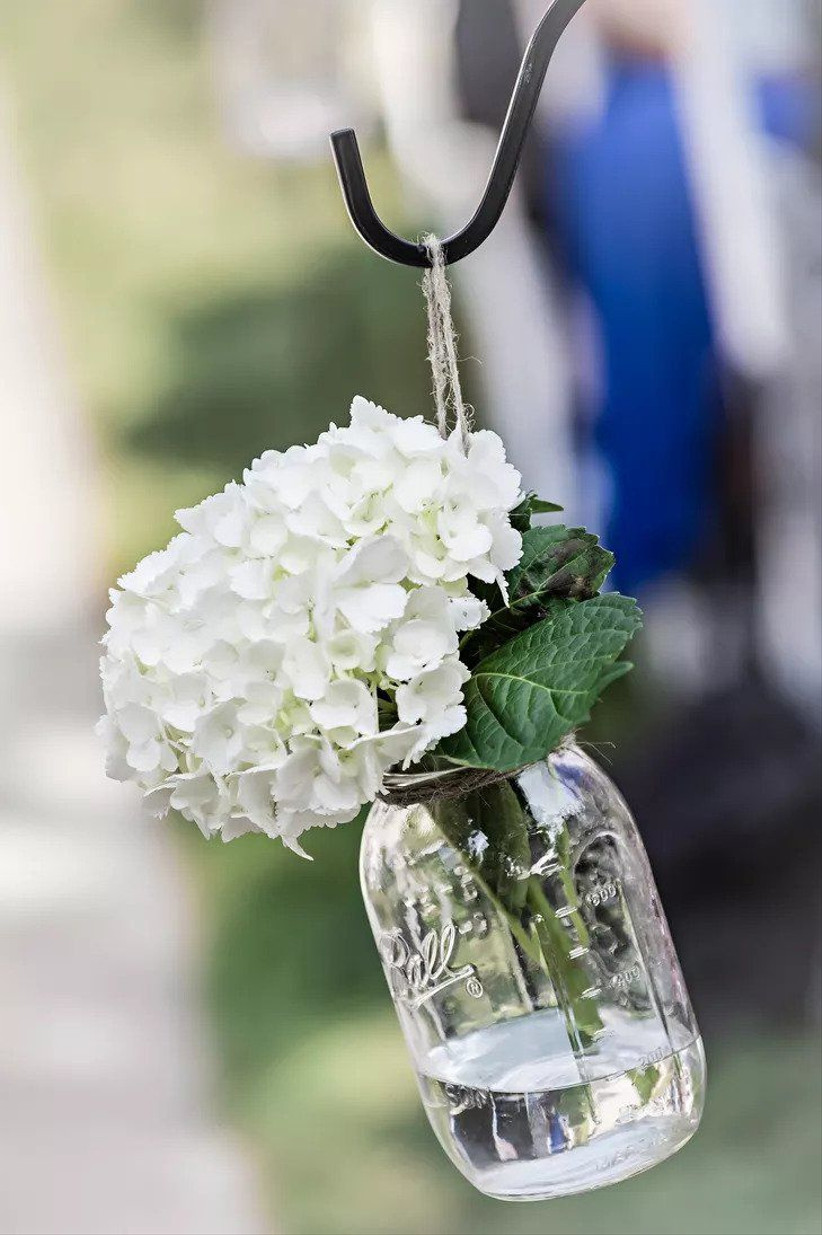 Mason jars containing a single bloom can look very effective, whether you attach them to chairs or hang them from stakes along the aisle.
21. Add Some Ribbons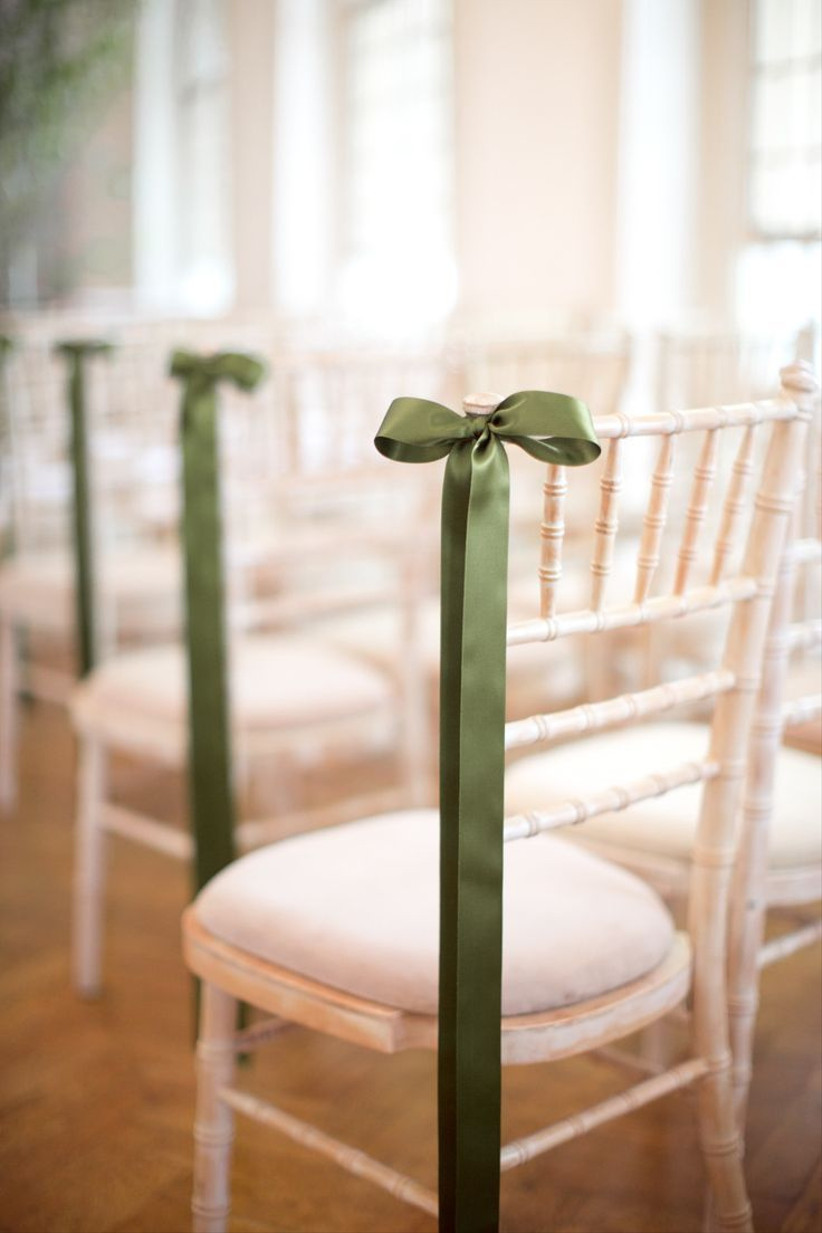 Perfectly tied ribbons are a lovely way to add character to your ceremony chairs.
READ MORE: 60 of the Best Wedding Readings: The Complete List of Reading for Your Big Day
22. Create an Ombre Effect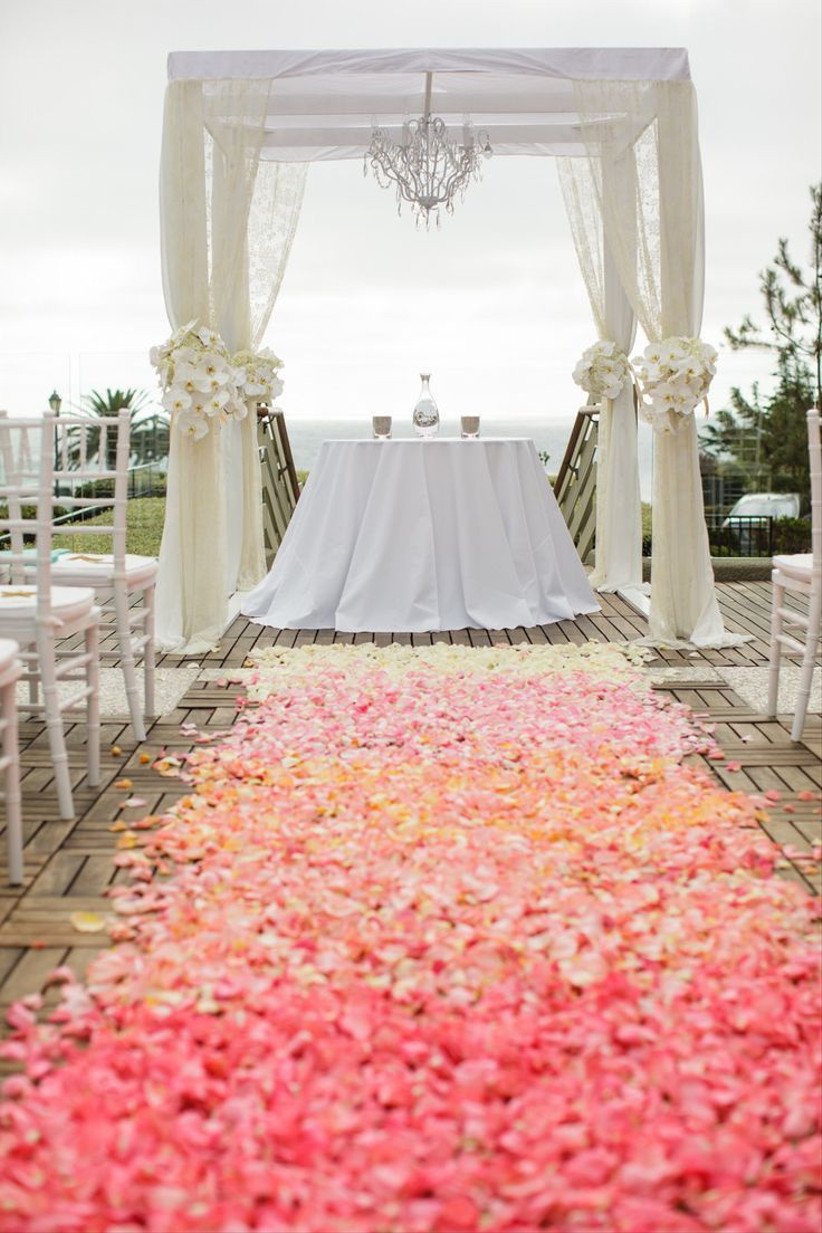 You don't have to use petals that are all the same colour – choose a mix so you can create a pretty ombre look on the aisle.
23. Consider Your Seating
Your ceremony seating makes a big difference to the way your wedding aisle looks. Hay bales, for example, are great for a rustic celebration – just make sure they're covered so guests can sit comfortably.
24. Upgrade Your Lanterns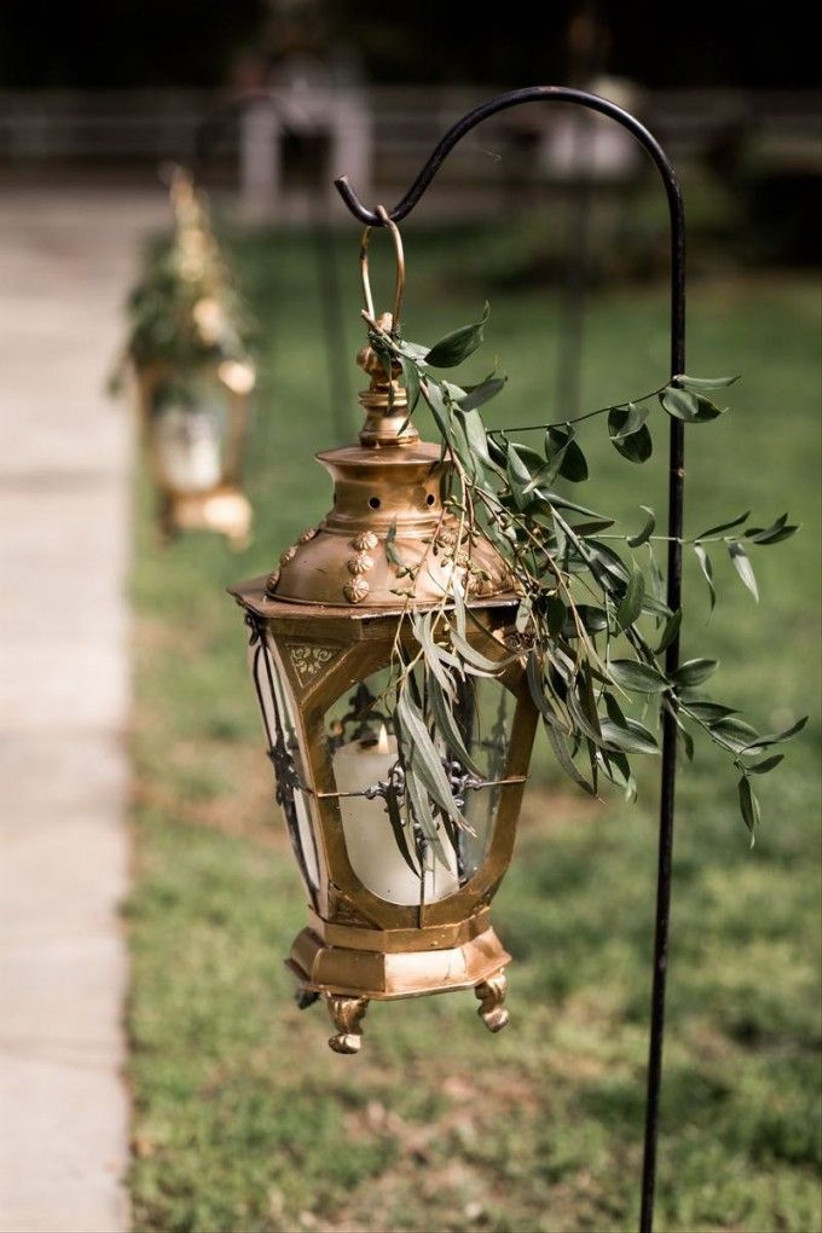 There's definitely a place for plain lanterns, but for a more opulent effect, line your aisle with ornate, antique-effect versions.
25. Opt For Taller Blooms For Impact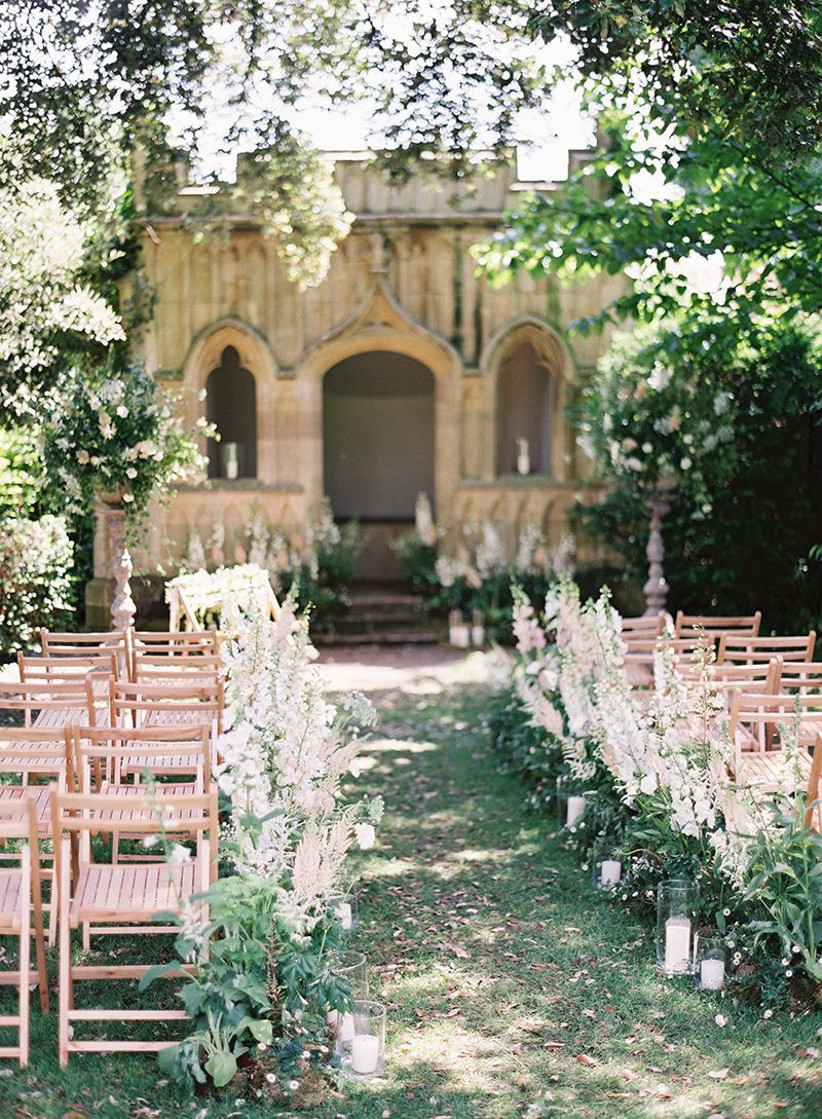 If you're getting married in beautiful outdoor surroundings, choose tall flowers that draw the eye and complement the setting.
26. Chandeliers add a luxe note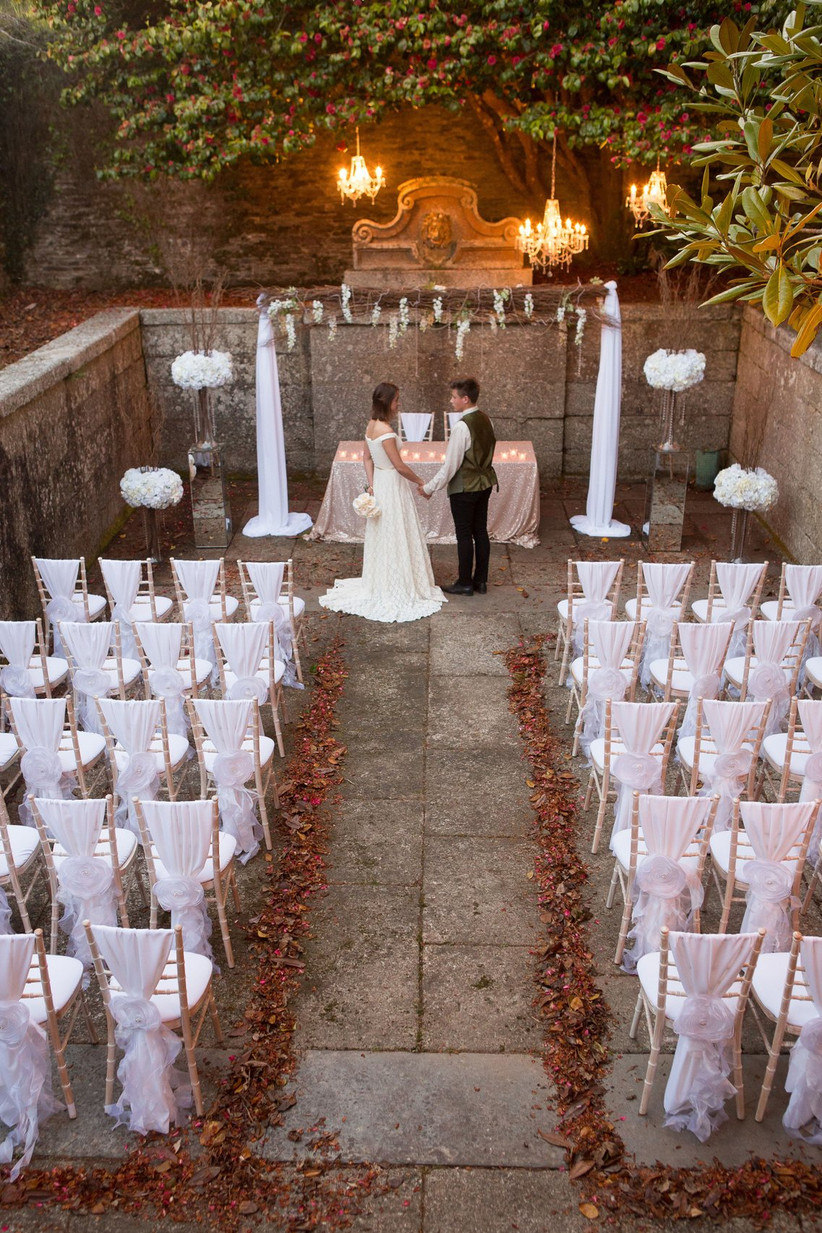 We just love chandeliers for an opulent feel – you can hire them for outdoor weddings or marquees.
27. Don't Be Afraid of Simple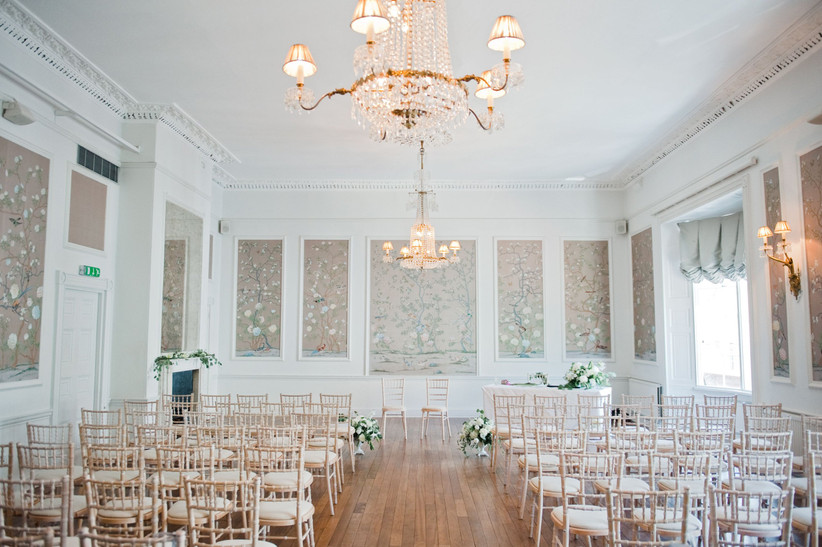 If your ceremony room is already beautiful, keep your aisle look simple – just a couple of chic floral arrangements.
28. Think About Signage
Have a sign at the entrance to the aisle – we really like the sentiment of this. Obviously, you'll need to brief a bridesmaid to remove it as you arrive.
29. Play With Light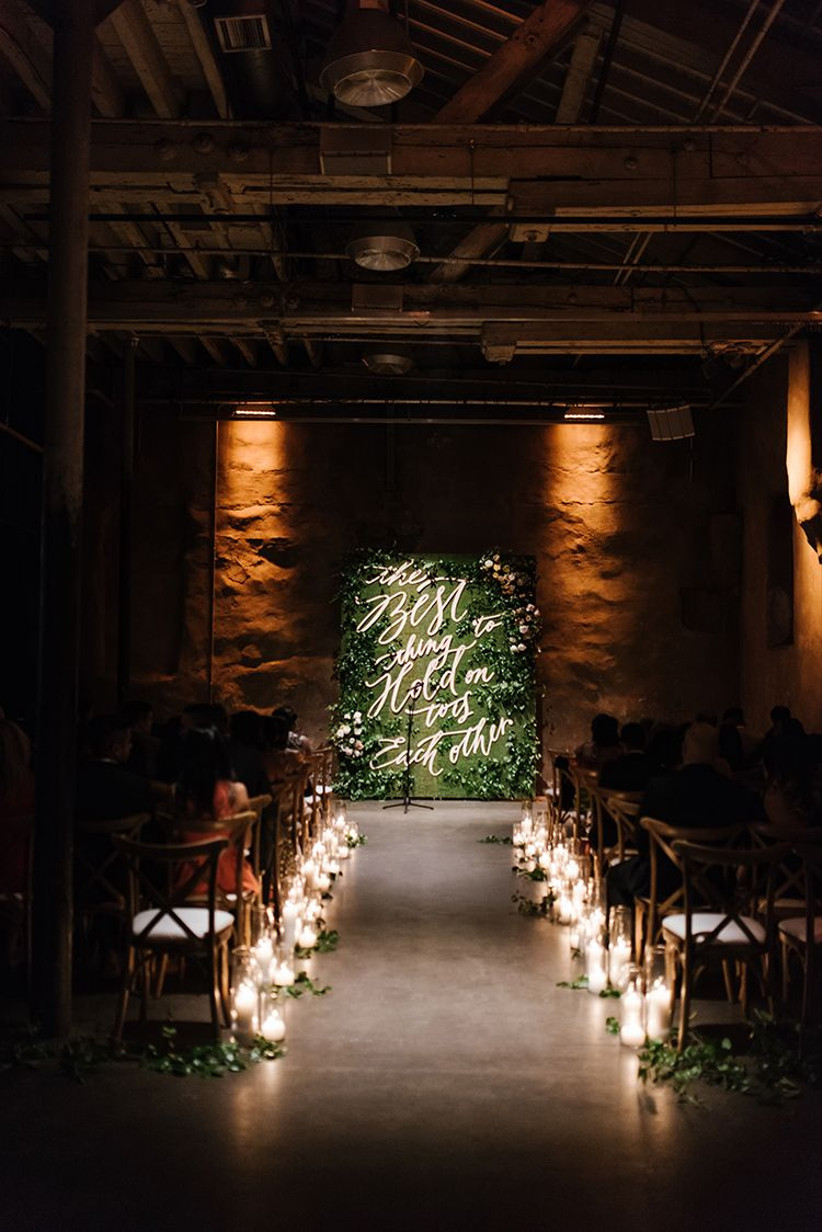 Is your ceremony taking place in a darker space? Embrace that! Use lighting to make the aisle the focal point.
30. Add Some Sparkle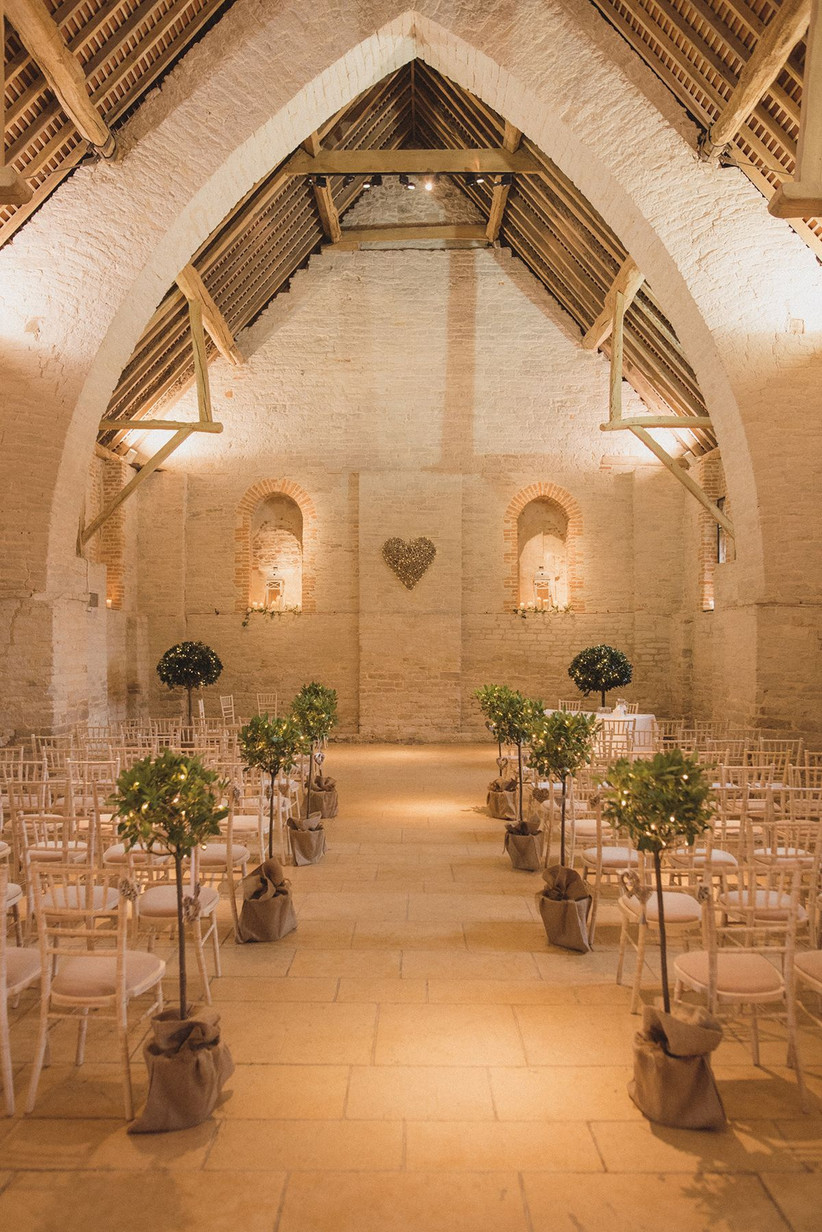 If strings of fairy lights aren't your style, add some subtle sparkle with glowing lights in trees lining the aisle.
31. Pull the Look Together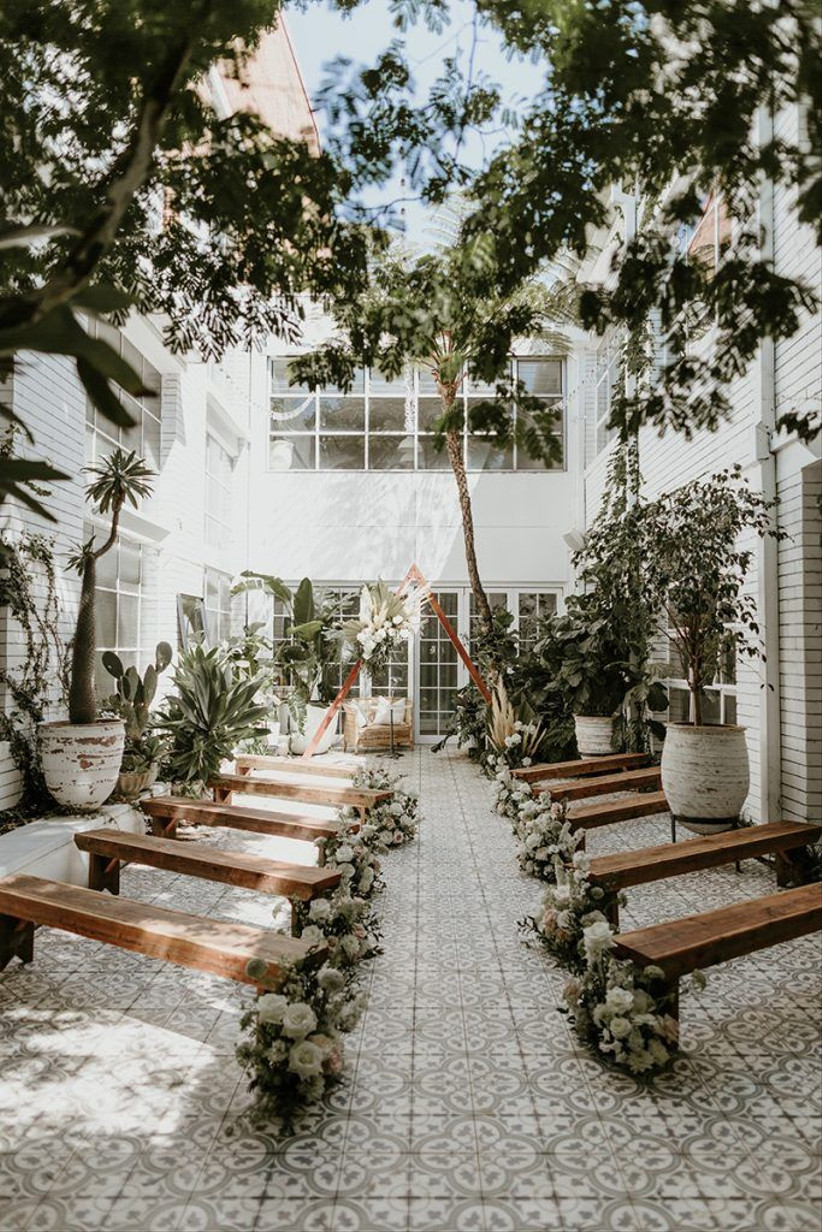 Work in harmony with your ceremony space. This small wedding venue has plenty of greenery and a laidback feel, both of which are mirrored in the floral arrangements and bench seating.
As well as sorting your aisle style, make sure you get the music you want with our edit of the 120 best wedding ceremony songs.
Credit : – By Hannah Davies @ https://www.hitched.co.uk/