"Once in a while, right in the middle of an ordinary life, love gives us a fairy tale." Every bride is a princess for her father but a queen in the eyes of her king. Queen along with her king has all the power to rule the world but a single dream of perfect marriage. A perfect marriage should be vibrant like the colours of lehenga and sherwani. Ordinary marriages don't excite us anymore, royal vibes and venues are finer. India is known for its tradition, culture and beauty. The most beautiful day in the lives of married couples is the day of their wedding. Wedding day is remembered throughout the life, so how can it be boring and simple. Here are some venues you can choose to throw a royal, dignified and crowned marriage.
1. Neemrana Fort
Neemrana Fort is located in the district of Alwar, Rajasthan. Its famous throughout the world for its beauty, fantasy, charm and uniqueness. It is the perfect venue for organizing a weeding for approx. 150-300 people. There are 74 rooms which will accommodate guests with royal vibes. Two indoor venues along with one outdoor venue is available. The fort is a seven-wing palace with picturesque places like hanging garden and Roman amphitheatre.
The charm this palace gives is full of peace, colours and memories. The staff of the hotel is very helping and generous. Neemrana is a beautiful place, perfect for big Indian wedding. It's the ideal destination to feel majestic and imperial.

2. The Oberoi Udaivilas
Celebrating love with your life partner is easy when you are planning your wedding day in the 'city of lakes'. The Oberoi Udaivilas is located in the Pichola district of Udaipur. It is a luxurious hotel known for its beautiful of lawns and gardens. The super hit movie 'Yeh Jawaani Hai Deewani' has perfectly showcased the beauty of this amazing place. There are 83 rooms along with 4 suits excluding the royal Kohinoor Suite. No doubts that it is one of the ideal wedding-destination.
3. Mundota Fort and Palace
This fort is located on the hills of Mundata district in Jaipur. This palace is full of green lushed gardens and courtyards. There are 52 rooms in the palace, perfect for a intimate wedding. The view from the fort is breathe taking as the fort is located amidst the beautiful range of Aravalli. It is the perfect location for a fairy-tale marriage. The statement by William Lyon "The highest happiness on earth is the happiness of marriage." Is experienced here.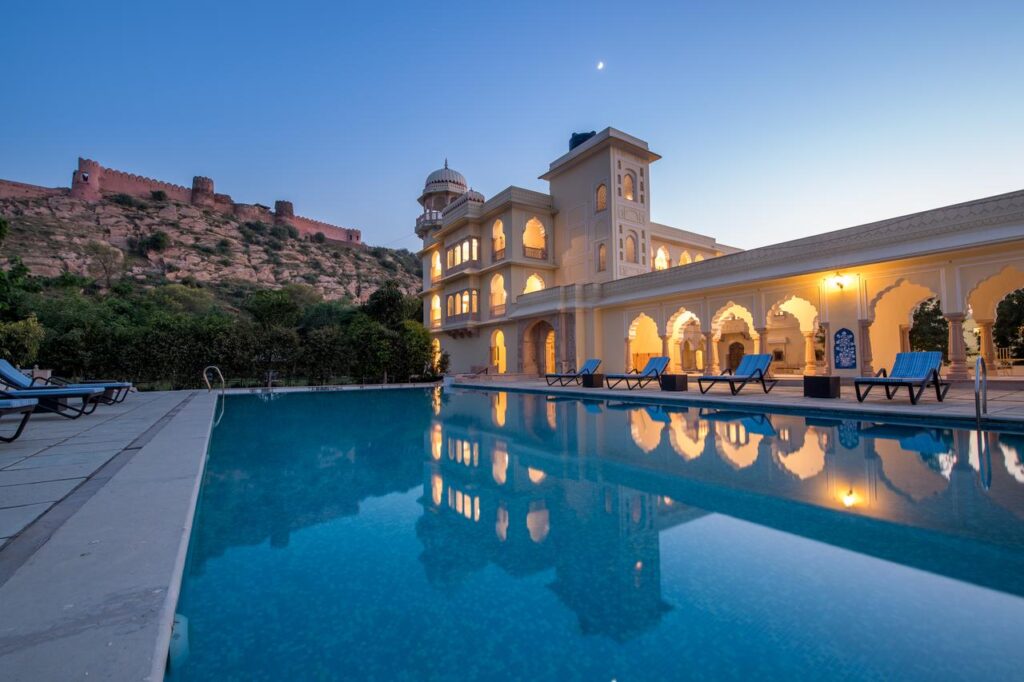 4. Taj Falaknuma Palace
Taj Falaknuma is a 5 star hotel with 60 rooms and varied services. It is located in Hyderabad, Telangana. The rooms of the hotel are beautifully furnished with extraordinary detailings. This destination is also famous among celebrities, many Big fat Indian weddings were planned here. It is one of the renowned destination of wedding in India. The whole palace is made of fine Italian marble. The hotel is the ideal epitome of ancient British classics. There is a library in Falaknuma that looks similar to the library in England. Falaknuma has the work's largest collection of Venetian chandeliers. This fort is remarked as the beauty of Hyderabapimppppinoopp

5. Alila fort
This fort is located at Bishangarh Village of Jaipur district. This fort is luxurious and supreme and has a wide variety of rooms. This fort provides a 360 degree view of Rajasthan procrastinating its splendid beauty and charm. This perfect destination is truly an epic for royal weddings.
Cntraveller.in
Tripadvisor.com
ALL THESE FORTS AND PALACES ARE THE IDEAL DESTINATION FOR YOUR WEDDING IF YOU WANT TO GIVE A ROYAL TOUCH WITH AESTHETIC VIBES OF ANCIENT CHARM, SUPREMITY AND LOVE. ALL THESE PLACES ARE CUSTOMER FRIENDLY AND CAN CUSTOMIZE DECORATIONS AND EVENTS ACCORDING TO THE DEMANDS AND NEEDS OF THEIR CUSTOMER. ALL THE BEST FOR YOUR SPECIAL DAY, WE HOPE YOU WILL FIND YOUR PERFECT DESTINATION.